Triple certification for Lake Spirit Boutique and Spa Hotel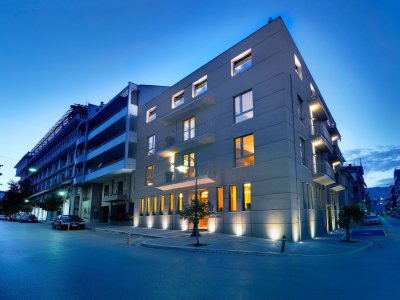 We were certified by the Hellenic Chamber of Hotels as an official Boutique Hotel, our breakfast received the "Greek Breakfast" certification and we acquired the 4 stars rating for our services.
It is a triple joy that we have been experiencing lately in Lake Spirit Boutique and Spa Hotel.
Let's start by saying that we have become the first and currently only hotel in Ioannina that has gained the Boutique Hotel certification. This certification is offered to selected hotels throughout Greece, hotels of small size that show great love and passion when it comes to hospitality, services, design and architecture. Every hotel in order to be recognized as a Boutique Hotel from the Hellenic Chamber of Hotels has to meet a number of requirements: to have a special and well-presented concept, to offer a unique experience in accommodation, to provide services and hospitality that make every visitor get the feeling of personal, tailor-made care. And to have not more than 60 rooms resembling more to an intimate nest than an impersonal hotel unit. So, it was a pleasure and honor to be the first hotel in Ioannina, and one of the only 20 hotels in Greece so far to get the quality seal of "Boutique Hotel", while several other accommodation units are still in the process.
Lake Spirit Boutique Hotel and Spa has also recently been ranked as a 4 star hotel. This means that it was thoroughly checked for its services, accredited by the Hellenic Accreditation System (ESYD), and was designated in accordance with the provisions of Government Gazette 216/2015 (B 10), 19102/2016 (Government Gazette B 3387), 21654/2017 (Government Gazette B 4242) and 17352/2018 (Government Gazette B 4822) of the Ministry of Tourism. 4 stars is a proof that Lake Spirit Boutique Hotel and Spa makes all efforts to offer high-level services and unrivaled comfort.
Along with these two certifications, we have acquired one more, this time with a more local… taste. It is the "Greek Breakfast" certification given to hotels that serve not a conventional breakfast but a superior morning buffet, designed and implemented based on the principles of Greek culinary culture, using ingredients directly from the Greek land. As UNESCO notes, the gastronomic wealth of each region is an important part of the intangible cultural heritage of mankind. The breakfast we serve in Lake Spirit Boutique and Spa Hotel could not ignore this heritage and not be distinguished for its original "Greek Breakfast", since every day you can find delicious goodies of local gastronomy, homemade pies with a handmade dough, handmade marmalades, cookies and cakes baked especially for you by our cook, as well as fresh eggs from Epirus, cheeses, honey and other local products that we pick carefully for you from local producers.